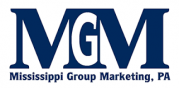 Mississippi Group Marketing
1904 Lakeland Dr, Jackson, Mississippi 39216
About Mississippi Group Marketing
Mississippi Group Marketing, P.A. provides products that enable business owners and financial managers to take better control of their businesses. With the assistance of our staff, we can work together in the best interest of your company to create highly competitive and cost effective benefit strategies. Doing the right thing every time is the foundation of our relationships with our clients, agents and carriers.
Employer Size Expertise
1-10
11-50
51-100
101-250
251-1,000
Employer Revenue Expertise
$0 - $1M
$1M - $5M
$5M - $50M
$50M - $250M
Industry Expertise
Accommodation and Food Services
Admin, Support and Waste Mgmt
Agriculture, Forestry and Fishing
Construction
Educational Services
Finance and Insurance
Health Care and Social Assistance
Information
Management of Companies
Manufacturing
Other Services (except Public Administration)
Professional, Scientific and Technical
Public Administration
Real Estate Rental and Leasing
Retail Trade
Transportation and Warehousing
Utilities
Wholesale Trade
Andy Elkins
Review posted on 07/29/2020
The staff at MGM have gone above and beyond to help us out whenever needed. Great group of people!
This information was provided by Mployer Advisor. This information is not currently maintained by, endorsed by or affiliated with Mississippi Group Marketing