Legislators toiled with it for a decade as the problem grew worse. Dr. Marty Makary fought nationally for it stronger than any single organization. Nearly two-thirds of US bankruptcies are caused by it. Finally, starting on January 1, 2022, the No Surprises Act will take effect, enforcing new regulations to protect patients from surprise billing with potentially more insurance fee disclosures to come.
A few years ago, my wife was pregnant and having trouble breathing. We went to the emergency room of a hospital in-network with our insurance, and she was admitted with pneumonia. A few days later, she was healthy enough to be discharged. A month later, we received a bill stating that the hospitalist that treated her at an in-network facility, assigned to us by the facility, was out-of-network with our insurance. We now unexpectedly owed an additional $1,200 out-of-pocket. We were given no notice or option while in the in-network facility, and had no legal recourse to refuse it–we had to pay it.
Months later, I was talking to a friend who recently had a colonoscopy. The procedure was with an in-network G.I. physician, at an in-network ambulatory surgical center (ASC), and he received a bill from–you guessed it– an out-of-network anesthesia provider. This anesthesia provider was the same one assigned to him by his in-network ASC. Again, this is the same tactic. He had no recourse–he had to pay it. 
The problem lies with the siloed nature of the industry–a hospital cannot be expected to ensure every physician at their facility is in-network with every insurance that the hospital accepts. The insurance company cannot require every hospital in their network to have 24/7 coverage for all physician specialties in their network. But when gaps exist out-of-network bills appear, wreaking havoc on patients financially and unexpectedly.
Out-of-network charges are usually 2-3X what in-network rates are and can be lucrative. Certain physician staffing and air transport companies (among others) have found ways to take advantage of this and profit, aiming for out-of-network charges. These actors are difficult to control if you are a hospital or insurance carrier, and their bills have grown significantly year over year in frequency and amount.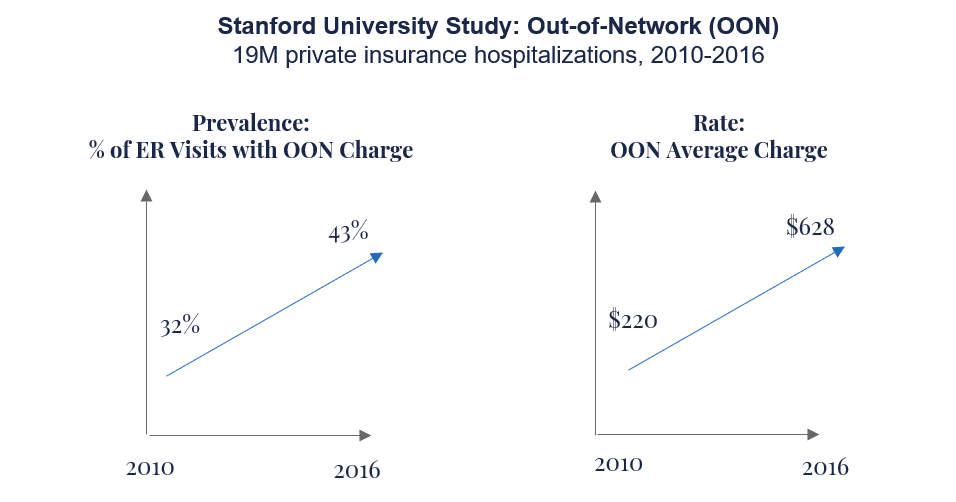 Unexpected surprise billing like this for out-of-network expenses costs 160 million Americans on employer-sponsored healthcare plans roughly $20B a year. To be clear, this does not impact those on government-funded plans (e.g., Medicare and Medicaid), primarily working Americans only on employer-sponsored plans.
Enacting legislation to stop these practices was difficult due to negotiations between provider and insurance carriers lobbying back and forth on what the process should be. Meanwhile, working Americans continued to pay that $20B sum each year forcing thousands of families into bankruptcy annually. 
While bogged down nationally, certain states were able to start to pass laws. It was not a red issue or a blue issue–states from both sides started to pass various forms of legislation forcing more pressure on a national scale to do something. 
Finally, a federal law will go into place January 1, 2022, to fix this–the No Surprises Act. The law saves the average working American family approximately $4,000 in unexpected, out-of-pocket expenses. 
Per the new regulations, out-of-network bills will now be solved between the insurance company and the provider with you and your family removed from the disagreement and financial liability. This effects situations including: 
Emergency room use for out-of-network facilities and physicians 
Medical air transportation  
Ancillary services for elective care (e.g., anesthesia, radiology) 
Specialty services needed to respond to unexpected needs (e.g., neonatologist, cardiologist) 
Additional Brokerage Disclosures
Another core feature of the law to focus on is a proposed section 202(c). Mployer Advisor advocates for greater transparency in cost and quality of employee benefits. Under the No Surprises Act, there will be additional disclosures required for the way insurance brokers and advisors are compensated. 
Our early read is that the result will be similar to 401K provider disclosures under ERISA's 408(b)2. The law is still in a review period, with planned implementation on January 1st, 2022. Greater transparency creates greater confidence from all parties and lifts up the entire industry, including top insurance advisors and vendors.
To learn more about surprise billing legislation and how to communicate those changes to your employees, our webinar "Everything You Need to Know About the No Surprises Act" is available for free, on-demand viewing.  
I led a discussion with James Bristol and Sarah Hooper of Waller, a Nashville, Tennessee-based law firm that specializes in healthcare and financial services. Click here to view this webinar now.